⏭To Uzbekistan⏮CNC 4 Rollers Plate Rolling Machine And CNC Servo Turret Punching Machine
Introduction of 4-roll plate bending machine
1. Structure and performance outline
This machine is the general equipment used for bending plates. Prebending and bending can be completed on the machine without reversing end for end. Plates can be bended to be tubular, arc or even cone-shaped work pieces with supplemental device. Therefore, this kind machine can be widely used in such industries as war industry, source of energy, traffic, petrol, chemical industries, boiler, shipbuilding, hydraulic power, metallic structure, etc..
Its basic structure form is as follows: top and bottom rollers rotate fixedly. The up and down of bottom and two side rollers are controlled by computer separately. Its synchronous precision is ±0.2mm and position and displacement displayed by LCD. This machine with high accuracy, complete function and low consumption is world class metal-forming equipment.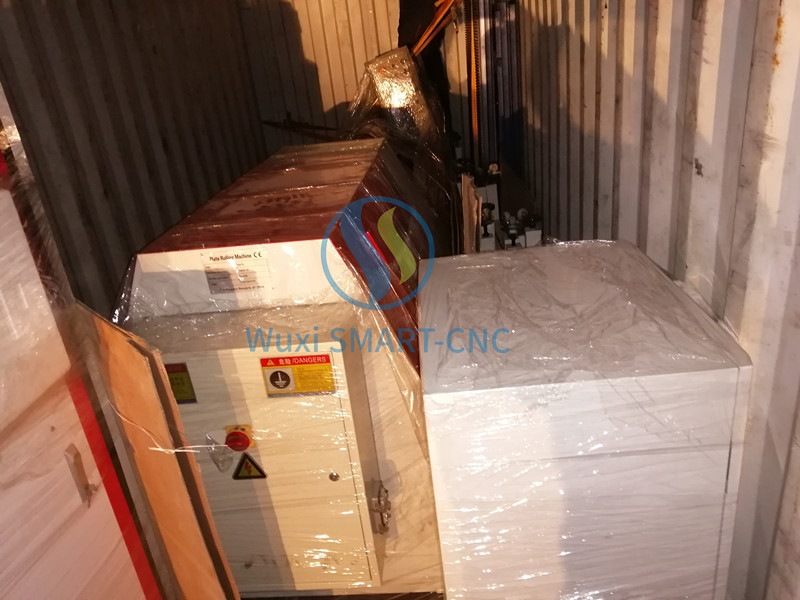 cnc servo turret punching machine
a.Accuracy: Our machine installs HIWIN ball screw, the accuracy is 0.023mm.We promise positioning accuracy less than 0.1mm.
b.Control system: Imported from Germany Rexroth and the punch head is also Germany Rexroth.
c.The feeding device pedestal is whole casting which against distortion.
d.Two rotate station: It can punch nonstandard shapes without changing molds.
e.The clamp can auto-escape when punch head moving on.
f.The spring which installed in mold is imported from Japan, it costs $1.5 for each. This spring has long working life. Big resilience force and can make stretching piece.
g.Considering the dimension of container we design a foldable machine to put into container. The size after folding is 4500x2200x2150.It avoids the damage from separation and installation, also guarantee the precision of punch press.