Electric Press Brake,Servo Electric Press Brake,servo press brake
Model:3Ton/200mm, 6ton/400mm, 12ton/600, 18ton/800, 20ton/1200, 30ton/1200,40ton/1300mm
Servo Electric Press Brake widely used in sheet metal industry opens a new trend of all electric servo drive replacing hydraulic main drive. The tonnage and output of all-electric press brake are increasing.
Advantage:
Servo Drive-Technology Provides High Precision Bending Results
100% Pure electric power, with no oil.
Up to 50% less energy consumption compared to a hydraulic press brake.
Up to 35% faster compared to a hydraulic press brake.
High efficiency and precision.
High bending speed and less noise.
Full bending length between side frames.
Less maintenance cost.
Eco friendly.
Friendly user interface.
Electric Press Brake Machine Parameter and Model
Model
Parameters
Pressure
capacity
(KN)
Working table length
mm
Bending stroke
mm
Back gauge stroke
mm
Axis No.
Main shaft power
KW
Quick down
return speed
mm/s
Working speed
Opening height
Throat depth
Distance between upright
ECO-12/600
120
600
120
150
3
5.5
200
<30
420
150
520
ECO-20/1000
200
1050
120
300
4
11
200
<30
430
250
930
ECO-30/1200
300
1250
150
500
4
13
300
<30
470
250
1150
ECO-35/1200
350
1250
150
500
6
13
200
<20
470
250
1150
ECO-40/1300
400
1300
150
500
6
15
200
<20
470
300
1200
ECO-40/1600
400
1600
150
500
6
15
200
<20
470
300
1400
ECO-50/2000
500
2000
150
500
7
30
250
<20
530
350
1400
ECO-60/2500
600
2500
150
500
7
30
200
<20
530
350
2300
I. Machine model, name and quantity
1. Model: ECO-12Ton/600
2. Name: full-electric servo CNC bending machine
3. Quantity: 1 set
II. Machine main technical parameters
NO.
Name
Unit
Parameter
Remark
1
Nominal pressure
T
12
2
Working table
mm
600
3
Distance between housings
mm
450
4
Throat depth
mm
200
5
Sliding stroke
mm
120
6
Max.opening height
mm
420
7
Back gauge stroke
mm
200

8
Slide running speed
Empty loading
mm/s
200
Working
mm/s
1-30
Return
mm/s
200

9
Main motor
Power
KW
5.5
Quantity
set
1
10
Control system
Model
ECO-10ES
Axes number
2
11
Dimension
L
mm
750
W
mm
750
H
mm
1980
12
Machine weight
Kg
760
III. Main configurations list
| | | | |
| --- | --- | --- | --- |
| NO. | Name | Supplier | Remark |
| 1 | Main motor | SANYO,Japan | |
| 2 | Linear guide | HIWIN | |
| 3 | Ball screw rod | TBI | |
| 4 | Electrical components | SCHNEIDER | |
| 5 | Bearing | NSK,Japan | |
| 6 | Control system | ECO-10ES/DELEM | |
IV. Main technical indicators and functions

1. Finite element analysis high-rigidity design
Key mechanical components of machine tools adopt finite element analysis deformation and safety factor to ensure that the overall high rigidity requirements of the machine tool and the reliability of long-term use.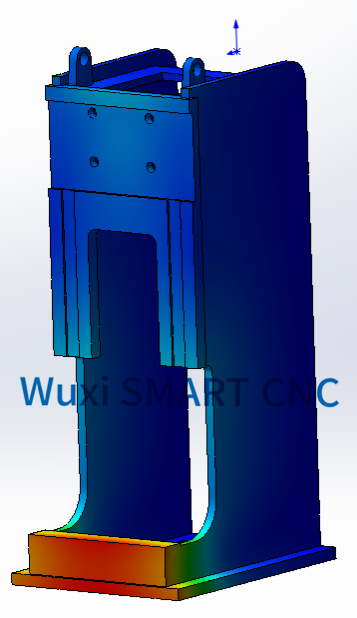 Intensity analysis Rigidity analysis

2.ECO-10ES CNC system
The ECO-10ES CNC system is mainly used in the field of full-electric servo bending machines. It is a high-end CNC system tailor-made based on market demand. It's functional, rich in built-in resources, safe, efficient, energy-saving and green environmental protection characteristics product.

Product characteristics of CNC systems
Reliable performance
The CNC system ECO-10ES uses a high-end CNC system development platform and advanced sheet metal bending special algorithms and motion control algorithms. All the main boards adopt industrial-grade chips. CNC systems have passed EMC electromagnetic compatibility verification and high and low temperature environment adaptability testing.
High-speed and high-precision control
CNC systems adopt a high-speed increase and speed-up algorithm and trajectory forward-looking algorithm. Before bending, CNC systems are pre-planned based on the speed and vector characteristics of the bend to make overall planning on the sports trajectory. The soft movement characteristics make high-speed and high essence effectively integrate!
High speed: the maximum fast progress speed of the Y-axis is 200mm/s, and the maximum working speed is 30mm/s.
High precision: repeat positioning accuracy ± 0.01mm.
Processing consistency: avoid the effects of changes in oil temperature on bending workpieces.

3. Energy-saving and environmental protection
CNC system ECO-10ES is mainly used in full-electric servo CNC bending machines, which saves electricity and green environmental protection.
Special power saving: the difference between the power consumption of the full -electric servo bending machine and the electric hydraulic servo bending machine is like the difference between the frequency frequency air conditioner and the ordinary air conditioner. The full-electric servo bending machine will automatically output the appropriate power electrical energy according to the working conditions, so it is particularly power-saving.
Green environmental protection: no need to use and replace hydraulic oil, which terminate the pollution of waste hydraulic oil to the environment.
40T full-electric servo bending machine and commonly used 40T electro-hydraulic bending machine power consumption comparison: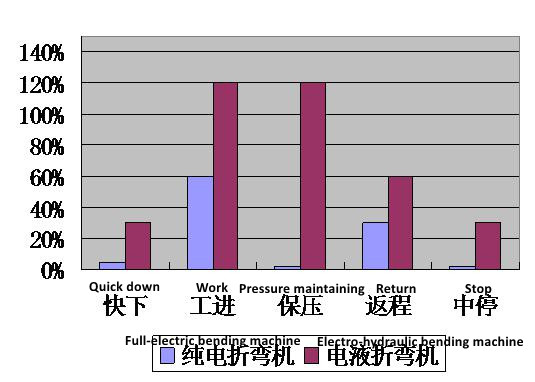 Each working step motor
power comparison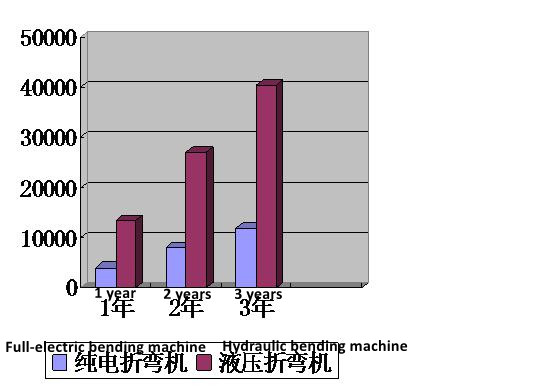 Power consumption
4. The main axle power box
The main axle power box can pass the bending pressure, using heavy roller screws and bearings, and a long life design. The sealing protection design ensures that key components are not affected by external dust.
The main axle power box/Synchronous wheel/AC servo motor
Main technical indicators and functions:
Intelligent tools loading monitoring to ensure the safety of the tool;
The five-line touch screen, the service life of more than 10 million times high and reliable, the operation process is simple and fast;
The automatic calculation function of the bending pressure, exceeding the stress limit range alarm prompt;
Calculating function of the "Direct" calculation function of the back gauge: according to the size and plastic deformation of the sheet metal, calculate the back gauge position directly according to the neutral layer;
Arc continuous bending function;
Mold parameter library: establish a mold parameter library for customers, so that customers can quickly call parameters for sheet metal bending.
5. Back gauge
Standard as a single axis (X) CNC back gauge, two axes (X, R), four axes (X, R, Z1, Z2), six axes (X1, X2, R1, R2 , Z1, Z2) are optional according to customers' demands.
6. Upper mold clamps
The upper mold clamp adopts the usual fast clamping device.